Business Travel Simplified
Full workflow travel management application
Single, Unified Travel & Expense Management Platform
Claims and Reimbursements Process Transparency
Gain Control and Visibility On Travel Budgets
Actionable Insights
ROI Metrics on Travel Spends
Auto Approval Policy
30 day FREE trial (no credit card required)
The features your business needs
Corporate Car Rental Service
We simplify the mobility needs of corporate employees by helping them choose from a wide selection of comprehensive car rental deals.
Paperless expense submission, claims, and reimbursement
Submit e-receipts from anywhere: mobile, web, tablet, desktop, or email. TrackEx's cloud-based platform enables paperless expense submission, claims submission, and reimbursement processing. All the reports are auto-generated and transferred electronically making the process fast, accurate and paperless.
Pre-trip, multi-layered approval and scheduling
This travel and expense management platform is designed to meet all your process requirement. It helps employees to easily update their travel dates along with the purpose and travel cost of the trip. After the details are saved they are then auto-sent to the respective managers for approval. Managers can speed up the process by approving the travel requests from anywhere and any device. When the required approvals are complete the employee can book the flight/accommodation/car on the same platform. And that's not it, an employee can capture the expenses on-the-go and tap away to send it for reimbursement.
Custom-designed datacenter and multi-level encryption
TrackEx's custom designed data-server with continuous monitoring helps protect your data and enhances security. TrackEx also has a multi-level encryption and authentication system to securely protect and safeguard information from cyber threats with real-time security alerts.
Travel & Expense Management For ITES
Set control, delegation and smart compliance check
You can set control or define a budget, timeframe, resources, project, travel-class type or any other variable. You can even delegate control to an authorized person for a day or more (as required) for any number of activities. TrackEx comes with flexible features and a smart-compliance engine to configure and handle complex policies with real-time alerts of violations.
recently added posts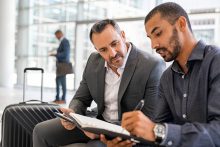 Best Travel Expense Management Practices
In the modern work environment, travel is a fact of life. Appointments, meetings, and conferences keep employees on the road often. It's essential to be prepared for these situations by developing a plan that minimizes expenses and maximizes your productivity.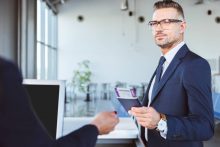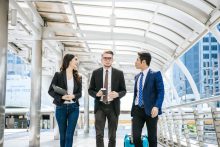 How Technology is driving business travel
Business travel can involve a lot of red tapes. This is due to complicated booking procedures, complicated tax rules, and the often tedious work of processing travel expense claims.