Business Travel Simplified
Full workflow travel management application
Single, Unified Travel & Expense Management Platform
Claims and Reimbursements Process Transparency
Gain Control and Visibility On Travel Budgets
Actionable Insights
ROI Metrics on Travel Spends
Auto Approval Policy
30 day FREE trial (no credit card required)
The features your business needs
Set control, delegation and smart compliance check
You can set control or define a budget, timeframe, resources, project, travel-class type or any other variable. You can even delegate control to an authorized person for a day or more (as required) for any number of activities. TrackEx comes with flexible features and a smart-compliance engine to configure and handle complex policies with real-time alerts of violations.
Improve Your Employee Engagement With Employee Benefits Program
Help employees maximize savings on every trip by providing them access to a broad selection of flight and hotel deals at discounted rates.
Dedicated technical support and customer service
Our support team is available 24X7 to assist you with any queries related to booking, visa processing, accommodation, transfers, or any technical issue. You can seek the assistance of our technical support team via chat or send an email to them.
Integration and communication
TrackEx is a cloud-based platform that comes with the flexibility to integrate travel and expense management to interface with any CRM, HRMS, accounting software or ERP. Representatives from the TrackEx team will work with you throughout the integration process, customizing it as per your needs and as per your corporate requirements. Our experts will also simplify the process so that you can get all the employee trip details, expense data and reports on the same screen along with insights for better decision-making.
Paperless expense submission, claims, and reimbursement
Submit e-receipts from anywhere: mobile, web, tablet, desktop, or email. TrackEx's cloud-based platform enables paperless expense submission, claims submission, and reimbursement processing. All the reports are auto-generated and transferred electronically making the process fast, accurate and paperless.
Analytics, Reports, And Insights
A Solution That Help CFOs Get A Full Picture Of Travel & Expense Metrics At-A-Glance With interactive dashboards giving an overview of all the KPIs, dig into profile activity, and dissect T&E with custom reporting.
recently added posts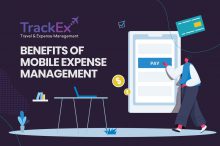 Benefits of Mobile Expense Management
Filing employee expenses has never been easy. It's a tedious process that involves maintaining spreadsheets, assembling piles of paper receipts, and clearing manager approvals.