Business Travel Simplified
Full workflow travel management application
Single, Unified Travel & Expense Management Platform
Claims and Reimbursements Process Transparency
Gain Control and Visibility On Travel Budgets
Actionable Insights
ROI Metrics on Travel Spends
Auto Approval Policy
30 day FREE trial (no credit card required)
The features your business needs
Pre-trip, multi-layered approval and scheduling
This travel and expense management platform is designed to meet all your process requirement. It helps employees to easily update their travel dates along with the purpose and travel cost of the trip. After the details are saved they are then auto-sent to the respective managers for approval. Managers can speed up the process by approving the travel requests from anywhere and any device. When the required approvals are complete the employee can book the flight/accommodation/car on the same platform. And that's not it, an employee can capture the expenses on-the-go and tap away to send it for reimbursement.
Set control, delegation and smart compliance check
You can set control or define a budget, timeframe, resources, project, travel-class type or any other variable. You can even delegate control to an authorized person for a day or more (as required) for any number of activities. TrackEx comes with flexible features and a smart-compliance engine to configure and handle complex policies with real-time alerts of violations.
Automate Mileage Tracking For Business Travel
Record traveled miles. Classify trips. Use logs to create customizable report. TrackEx Mileage Tracker gets your travel expenses ready the way you want.
Improve Your Employee Engagement With Employee Benefits Program
Help employees maximize savings on every trip by providing them access to a broad selection of flight and hotel deals at discounted rates.
Streamline payment process
The simplified and accurate payment process helps companies to reimburse faster, thus ensuring happy employees. With an easy-to-use interface for expenses management, employees can easily capture their spend even when they are traveling, and can quickly create and submit their expense claims. The managers on their end get an organized report and guided review with highlights of violation, if any, that makes the approval process easy for them.
Corporate Flight Booking Simplified
Helping corporates drive savings and efficiency with a global inventory that focuses on business travel needs.
recently added posts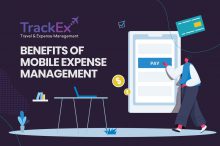 Benefits of Mobile Expense Management
Filing employee expenses has never been easy. It's a tedious process that involves maintaining spreadsheets, assembling piles of paper receipts, and clearing manager approvals.