Business Travel Simplified
Full workflow travel management application
Single, Unified Travel & Expense Management Platform
Claims and Reimbursements Process Transparency
Gain Control and Visibility On Travel Budgets
Actionable Insights
ROI Metrics on Travel Spends
Auto Approval Policy
30 day FREE trial (no credit card required)
The features your business needs
Custom-designed datacenter and multi-level encryption
TrackEx's custom designed data-server with continuous monitoring helps protect your data and enhances security. TrackEx also has a multi-level encryption and authentication system to securely protect and safeguard information from cyber threats with real-time security alerts.
Scan Receipts Effortlessly On-The-Go
Digitize your expense tracking. Scan single to multiple receipts anytime, anywhere with TrackExmobile app.
Manage credit cards with auto-sync and reconciliation with fraud check
Integration of corporate cards and reconciliation on TrackEx comes with an in-built fraud-check feature. TrackEx eliminates the need for manual data entry by matching relevant spending reflected on credit cards. Be it an Amex, Visa, MasterCard or a Discover card, TrackEx has got you covered.
Paperless expense submission, claims, and reimbursement
Submit e-receipts from anywhere: mobile, web, tablet, desktop, or email. TrackEx's cloud-based platform enables paperless expense submission, claims submission, and reimbursement processing. All the reports are auto-generated and transferred electronically making the process fast, accurate and paperless.
Analytics, reports, and Insights
TrackEx gets you all the data and insights from your employees' travel. You can build custom-reports based on the searches, trip details, travel reports, expense reports, expense types, and accommodation preference(s) to better understand the data. This further helps in informed decision-making and facilitating improved performance thereby saving overall time & costs and increasing employee satisfaction.
Corporate fares and travel booking
TrackEx also has an advanced in-built travel booking tool with an exclusive and wide range of corporate fare inventory. This feature comes with an advanced fare-search intelligence across GDS and multiple sources. This feature is simplified on the web, mobile, and app interfaces in such a way, that it easily sends the booking request to managers for pre-approval, and facilitating instant booking upon approval.
recently added posts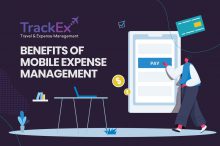 Benefits of Mobile Expense Management
Filing employee expenses has never been easy. It's a tedious process that involves maintaining spreadsheets, assembling piles of paper receipts, and clearing manager approvals.