Business Travel Simplified
Full workflow travel management application
Single, Unified Travel & Expense Management Platform
Claims and Reimbursements Process Transparency
Gain Control and Visibility On Travel Budgets
Actionable Insights
ROI Metrics on Travel Spends
Auto Approval Policy
30 day FREE trial (no credit card required)
The features your business needs
Real time expense reporting
TrackEx reduces expense reporting time by 80%! The application's intelligent automation enables one-tap expenses reporting, submission, approval and reimbursement. Besides, TrackEx also organizes receipts, e-receipts, credit card charges, and wallet payment details on-the-go while staying in compliance with company policies.
Streamline payment process
The simplified and accurate payment process helps companies to reimburse faster, thus ensuring happy employees. With an easy-to-use interface for expenses management, employees can easily capture their spend even when they are traveling, and can quickly create and submit their expense claims. The managers on their end get an organized report and guided review with highlights of violation, if any, that makes the approval process easy for them.
Boost decision making and performance
TrackEx gets all the insights and data from employee search, trip, preferences, expense reports, travel reports, and accommodation preferences to build a customised report. As this data available on TrackEx is AI-augmented, it generates meaningful & reliable insights that help in important decision-making that can increase performance and save costs.
Shorter expenses approval cycles
The expenses approval cycle is simplified on the TrackEx platform to shorten the entire approval process by eliminating the unnecessary time spent in various activities via automation. Employees can enter their expenses on-the-go with their smartphone just by scanning the receipts or importing data from their email or from their credit card transactions. The integrated services on the platform enables seamless, one-tap receipts submission for approval. The manager's/ admin's approval workload is shortened as they are provided with the flexibility to approve anytime, from any device.
Integration and communication
TrackEx is a cloud-based platform that comes with the flexibility to integrate travel and expense management to interface with any CRM, HRMS, accounting software or ERP. Representatives from the TrackEx team will work with you throughout the integration process, customizing it as per your needs and as per your corporate requirements. Our experts will also simplify the process so that you can get all the employee trip details, expense data and reports on the same screen along with insights for better decision-making.
Automate Mileage Tracking For Business Travel
Record traveled miles. Classify trips. Use logs to create customizable report. TrackEx Mileage Tracker gets your travel expenses ready the way you want.
recently added posts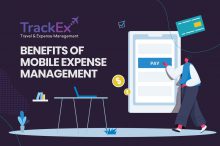 Benefits of Mobile Expense Management
Filing employee expenses has never been easy. It's a tedious process that involves maintaining spreadsheets, assembling piles of paper receipts, and clearing manager approvals.